Violence against law abiding citizens, especially African-Americans, by law enforcement is an epidemic.

Last edited by Admin on Mon May 02, 2022 1:34 pm; edited 1 time in total
Philadelphia police officer charged with murder for fatal shooting of 12-year-old TJ Siderio in the back
A former plainclothes Philadelphia police officer who shot and killed a 12-year-old boy who allegedly fired into the rear window of an unmarked patrol car has been charged with his murder.

Edsaul Mendoza faces charges of first- and third-degree murder, voluntary manslaughter and possessing an instrument of crime in the death of Thomas "TJ" Siderio, Philadelphia District Attorney Larry Krasner announced Monday.
There was the barbarous shooting of Jayland Walker. Now you have the barbaric response by Akron police against protesters.

This man's rights were trampled on without justification. He was assaulted and abused. The cop even tried to extort him. To say there was no crime here is more coverup. He wasn't killed because he did leave his vehicle or he would've been murdered by the police officers at the scene.
Special prosecutor says Virginia police officer who pepper-sprayed Army lieutenant should not face state charges
A Virginia police officer who pepper-sprayed an Army lieutenant and pushed him to the ground during a traffic stop in 2020 should not face state charges, a special prosecutor says, though he formally referred the case to the US Attorney's Office for a federal civil rights investigation.

"Although I find the video very disturbing and frankly unsettling, (Officer Raymond) Gutierrez's use of force to remove (Caron) Nazario did not violate state law as he had given multiple commands for Nazario to exit the vehicle," Special Prosecutor and Commonwealth's Attorney Anton Bell wrote after his investigation.

Two Windsor Police officers pulled over 2nd Lt. Nazario, who is Black, in December 2020 and repeatedly used pepper spray on him and pointed their guns at him, according to a news release from former Attorney General Mark Herring's Office. Officer Gutierrez was fired after the incident but another officer remained on the job, Windsor Town Manager William Saunders previously confirmed to CNN.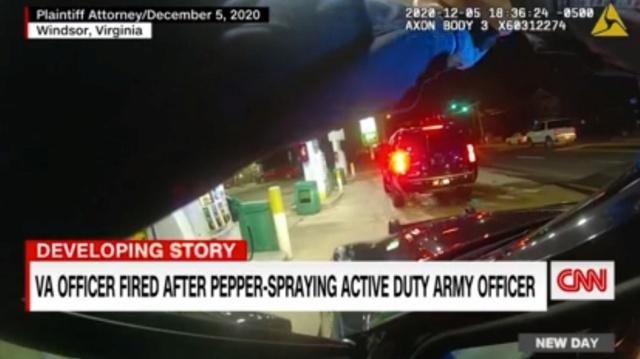 Similar topics
---
Permissions in this forum:
You
cannot
reply to topics in this forum